SGMY16: Day 1 – Flight
On Sunday the 13th of November 2016 I flew out of Sydney Airport to begin a week long adventure through Singapore and Malaysia.
Some of the trip was planned, most of it wasn't.
Thanks to very low cost of flights to SE Asia I managed to save money on flights to spend while there.  I flew return with Scoot, which is a subsidiary of Singapore Airlines, so while cheap they do have a premium service offering.
While flying out of Sydney there were bushfires around Penrith near The Northern Road that were quite obvious from the sky.
Anyway, the flight takes roughly 8 hours from Sydney to Singapore.  Thankfully I slept a lot of the way as the onboard wifi was terrible and there wasn't much to watch on Scoot TV.
Coming in to land at Changi Airport in Singapore from the north there was an awesome view of hundreds of ships on the Johor / Singapore Strait.  I got some great photos, and some blurry ones but they are still some of my favourite shots from the trip.
And if there's one thing you can almost always be assured of when landing in Singapore… It's the Humidity, as seen in the photo below, the window "fogged" up with humidity as we were taxiing to the stand.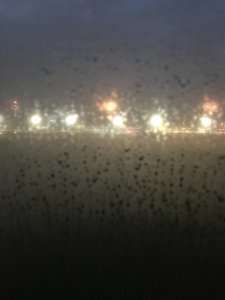 After making my way through immigration and customs I got a taxi to the Parkroyal on Pickering, an awesome "green" hotel in Chinatown.  Along the way I got a couple of city shots including Marina Bay Sands.
After checking in at the hotel, I walked next door to Chinatown Point Shopping Center and in my usual Singapore tradition, ordered KFC.  For the record one of my favourite foods in Singapore is KFC, they have so much more variety than in Australia and the food tastes awesome.
After dinner I went back and settled in for the night.  Tomorrow will be a big day.
Have You Seen?
Day 1 – Sydney to Singapore – YOU ARE HERE NOW
Day 3 – Singapore to Kuala Lumpur
Day 4 – Exploring KL and The Petronas Towers
Comments
comments left so far. Please leave a comment below. Did I mention that I love your feedback?