February 6 I headed off to Sydney Airport for my first International adventure alone.  My wife is in China celebrating Chinese New Year with her family.
After taking a 3 hourish flight with Air New Zealand to Auckland Airport and arriving about 4pm I hired a car and set off.
Today's only mission was to make it to Whangarei in time to check in to my motel.  After some driving up SH1 I made it in time to check in and get some dinner before 10pm.
The drive between Auckland and Whangarei is quite nice going through some small towns along the highway and some beaches to the right.
The video below is of Ruakaka Beach which is a short distance before Whangarei.
Day 2 – Northland
Day 2 I set off to see as much of Northland as I could in 24 hours.
I headed North on SH1 and it's not long before there's some towns and things to see.
I come across the Bay of Islands Vintage Railway in Kawakawa and had to stop and watch the men preparing the steam train for its journey through the fields.
After Kawakawa I deviated off SH1 and onto SH10 which headed east toward the coast.  Here there are some towns like Kerikeri that are historic and worth a look at before you arrive at the coast.  I stopped at Coopers Beach on Cable Bay for some photos.
A few beaches and mountain roads later I was back on SH1 and in Kaitaia where I stopped for a quick McDonald's lunch.
From here the drive was more of a challenge.  The road north from Kaitaia is quite windy and mountainous but there's some great views along the way.
I also stopped at a place along the way that digs out ancient trees and displays them.
Eventually you reach the end at Cape Reinga, the very top of New Zealand and here is worth every moment of the long drive.  The views are fantastic.  I did expect the lighthouse to be closer to the road and couldn't manage the walk down to it but I still managed to get some great photos.
Cape Reinga is also the very start of SH1 which means I have now been at both ends, stopping at Bluff at the bottom of the South Island last visit and have driven nearly most of the highway on both islands.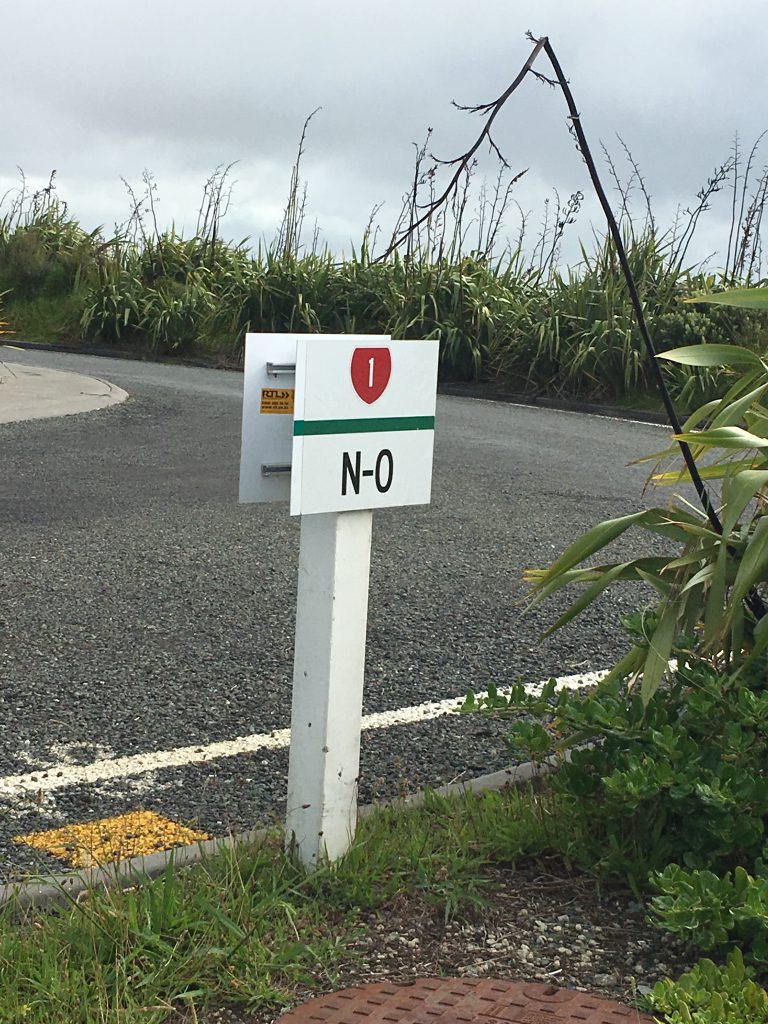 Just down the road from Cape Reinga is the Giant Te Paki Sand Dunes which photos do not given enough credit to.  These are massive.  People were there surfing down them while I was there and the area was extremely popular given it's the beach without the ocean (being a few KMs inland from the coastline).
I also stopped in at nearby Tapotupotu Bay which is located down a long windy dirt road.  It was raining a little but the beach was beautiful and I even walked down and dipped my feet in the water.  The beach is surrounded by huge rolling grass covered hills.
I had planned on staying at a holiday park somewhere on 90 Mile Beach but everywhere was booked out.  There's not a whole lot of roads going into this huge beach but I did manage to drive in and take a quick snapshot of the beach.
I arrived back at Kaitaia just after sunset, had some dinner and checked into a motel for the night.
Day 3
Another day for rapid adventure.  I woke late and set off onto SH1 going south.  Not long after Kaitaia is the Raetea Forest which while quite a windy road is very beautiful.
It was hard to stop to take any photos but I managed a couple of the huge ferns.
An hour more of straight roads and winding hills I arrived in Ohaeawai and headed west on SH12 toward Dargaville.  The whole purpose of this drive was to see New Zealand's largest tree.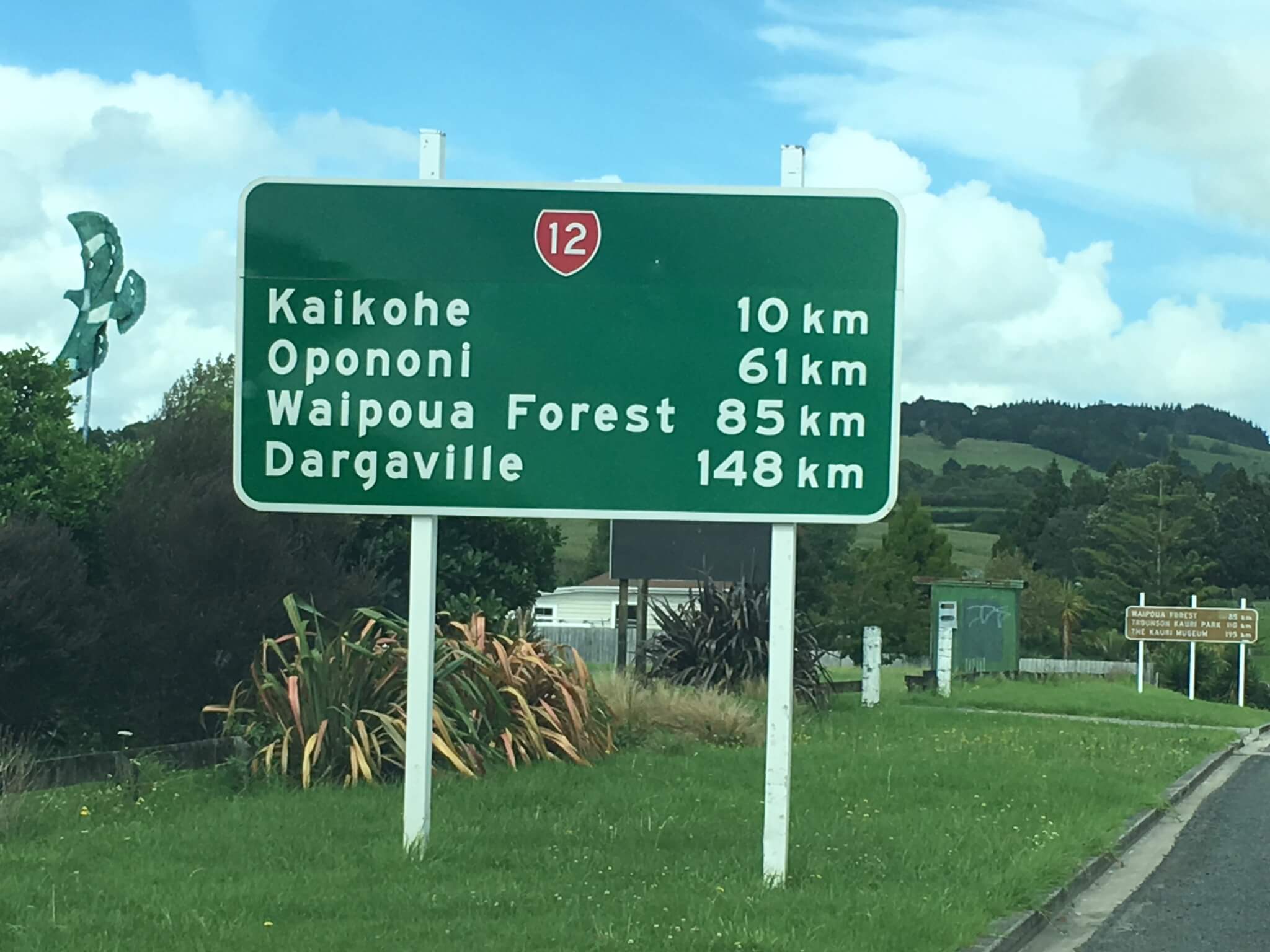 After stopping for lunch at Kaikohe and realising Monday was a public holiday and most places were closed (included eateries) I hit up a New Zealand cafe and grabbed some sandwiches and chicken skewers for the drive ahead.
SH12 leads you toward the west coast before heading back east.  At the coast is a small town of Omapere which is the beginning of the very beautiful Hokianga Harbour.
Situated next to the harbour is a very nice hill which looks back over the town and harbour.
20 minutes up the mountain from here is the Waipoua Forest, home of New Zealand's largest Kauri tree, known as Te Matua Ngahere.  (You can read more about the tree here)
I was very lucky.  As I arrived a tour group was arriving and their Maori tour leader spent a lot of time talking about the forest and the tree so I got to take in all his expertise.
And some photos:
There's some other nice things to see in the Waipoua Forest
And after the forest…
After arriving in Dargaville and taking some quick photos of the very dirty but wide river and filling the car up I decided i'd spend my last day in Rotorua and hit up the hot springs.
I powered on the last of SH12 and onto SH1 and reached Auckland by around 7pm.
I wasn't able to stop but I managed to take some quick snaps out of the window on the way through.
From Auckland it's only a couple of hours south to Rotorua.
Finally arriving just after 10pm I was exhausted after soooo much driving so quickly checked into my hotel and headed to sleep.
Day 4
Day 4 was "relax" day.
I wasn't able to find a cheap and convenient hotel for the night so  I decided to spend the day driving around.
After waking up to a nice view of the lake from my hotel (and not so much enjoying the sulfur smell that lingers over Rotorua) I started at the Polynesian Spa in Rotorua where I checked in for an hour or so in the hot spring pools.
The warm water is amazing and despite only being allowed to stay in for 15 minutes at a time is very relaxing (more info here).
From here I had some lunch, visited a tourist shop to buy some gifts and went to Countdown (supermarket) to get some supplies.
After leaving Rotorua I headed north again on SH6.  There's a cool spot in between Rotorua and Hamilton called Tukorehe Scenic Reserve aka Fitzgerald Glade where the trees top over the roadway.  There's a cafe in the middle then more trees.
Further up where SH5 meets SH1 there's a small town Tirau.  This place had some shed's that had animal facades which were quite photogenic.
By the time I reached Hamilton it was 5pm and everyone was leaving work.  The roads were packed so I decided to just make my way through and keep going back to Auckland.
I made it back to the airport about 7pm and stopped at a viewing area for a while and watched the planes land and take off.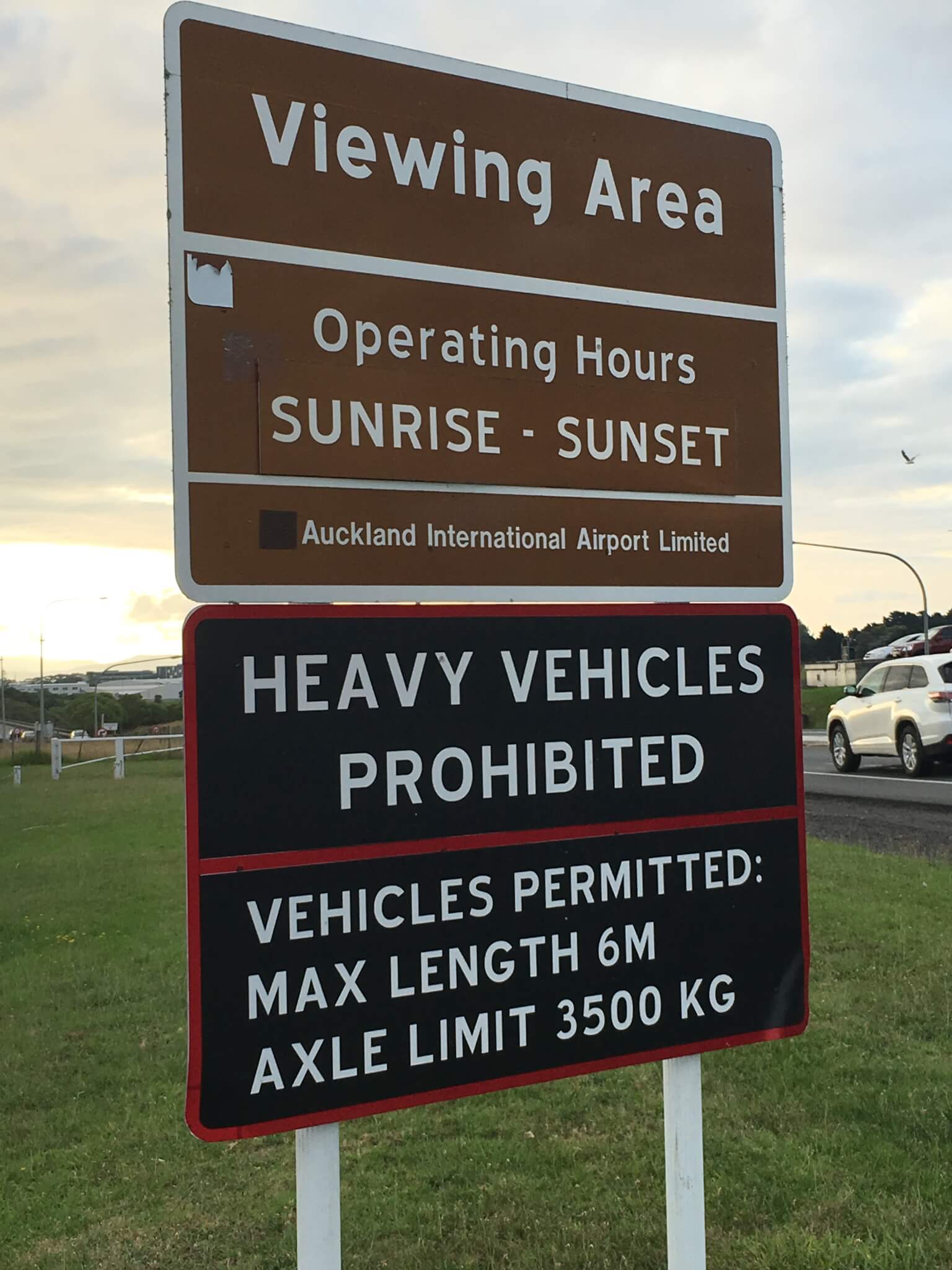 Afterwards with nothing planned and no real desire to explore anymore today I spent a few hours driving around, stopped off at Kmart, had dinner.  I eventually found a park next to the Harbour Bridge on the South side and stopped there for a while taking in the sights of the harbour and the city.
 Day 5 – Travel Day
After not having a hotel the night before I spent most of the night driving around looking at Auckland.
At 4am I dropped the car off a lot dirtier than when it left and got dropped off back at the airport to wait for my flight.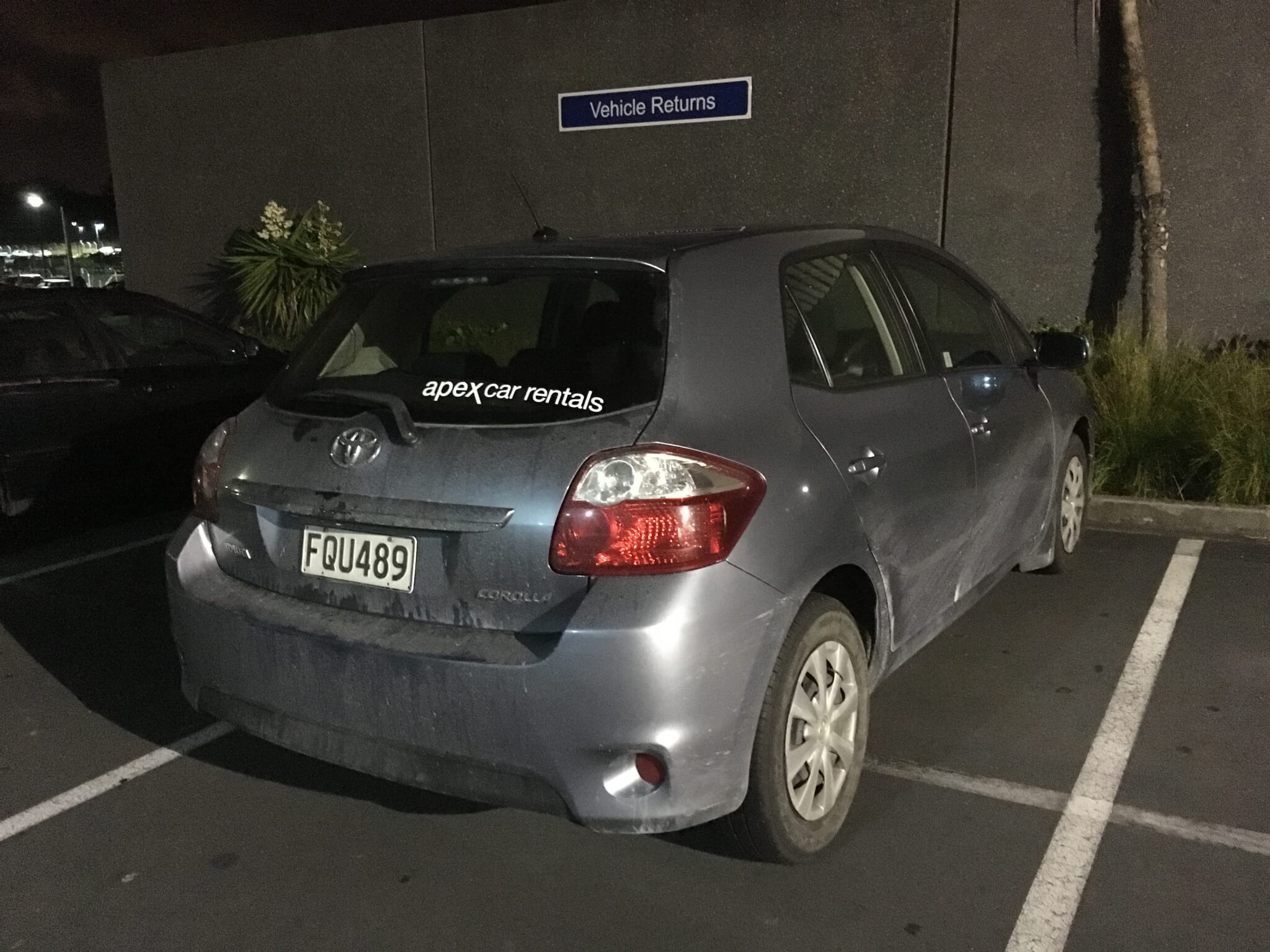 At 7am we were airborne with Virgin Australia heading to Brisbane where my connecting flight back to Sydney was about 4 hours later.
By the time I got home I was extremely exhausted and slept a solid 10 hours.
This trip to New Zealand, while lonely without my wife was a great mini adventure.  I had heaps of fun seeing new things that I never had a chance to see on our last visit (we only went south from Auckland last time).  There's still plenty to see in Northland that I haven't seen and one day i'm sure i'll get back there to check it out.
Since first going to New Zealand I have fallen in love with the country and love every opportunity I get to visit.
If you liked reading my post please leave some comments below or feel free to follow my blog.  Thanks everyone!
Flights
Just cause I am a plane lover here's the flight details:
Comments
comments left so far. Please leave a comment below. Did I mention that I love your feedback?