I know i've done a few posts in the past about the Blue Mountains but it's a spectacular area that literally would take a life time to explore to it's fullest.  So of course another trip up to the mountains via a different route was definitely a good way to spend a Saturday.
Heading to Richmond and then onto Kurrajong Road and Bells Line of Road heading towards Lithgow there is much to see with many small towns, mountains, hills, valleys, trees and much more.  Unfortunately it's difficult to photograph as there aren't lots of places to stop along the road to do so.
There's also a lot of stricken bushland from last years bush fires with a lot of the areas showing regrowth.
The first stop along the way, about 40km west of Richmond was the Blue Mountains Botanic Gardens.  The Gardens are located at Mt Tomah and have an elevated view across the valley towards the Blue Mountains National Park and Mt Banks.
The Gardens span around 28 hectares of area with an additional more than 100 hectares of area dedicated to conservation efforts.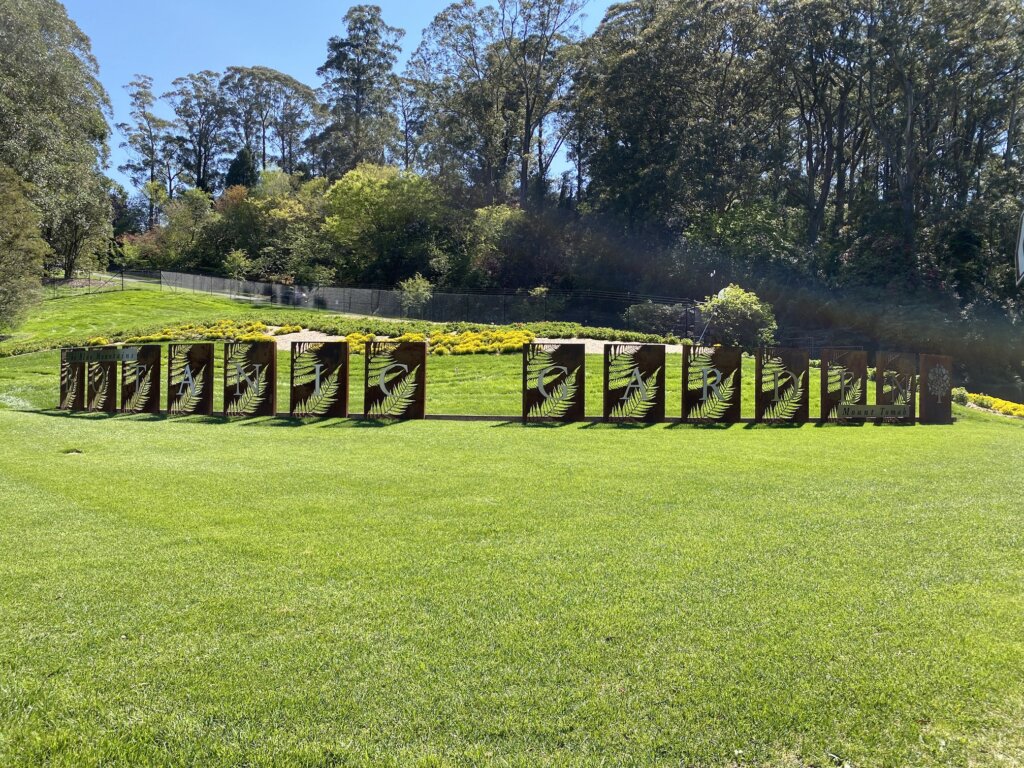 Unfortunately my back injury prevents me from doing too much walking so I have only just taken some snaps around the visitors center.
If you'd like more information about the Botanic Gardens check out their website.
Continuing along Bells Line of Road towards Lithgow there are even more great views across the valleys you can spot between the trees as you drive along.
Arriving in Lithgow with no intentions of hanging aorund I stupidly followed signs to a lookout which was about 4km from the town center.  As it turns out the road up the mountain was not sealed and there was a lot of dust, holes and traffic to contend with.
The Hassans Walls Lookout looks out towards Mount Wilson, Mount York, Mount Tarana and Mount Blaxland and the whole Hartley Valley below.  It is the highest lookout in the Blue Mountains at 1100m above sea level but certainly doesn't have the best views.
Next I headed back into town, washed the car quickly at a car wash to get rid of all the settled dust and headed east on the Great Western Highway back towards Sydney.
The next stop was Blackheath which has an amazing lookout hidden down a side street.  The Govetts Leap Lookout has amazing vistas across the Grose Valley and Govetts Leap Falls, also called the Bridal Veil Falls.  This is one of the most popular lookouts in the mountains.  There is a haze of Blue Mountains famous eucalyptus air blanketing the valley.
After this I stopped for lunch at The Ivanhoe Bistro which was OK.  Chicken schnitzel, chips, gravy and veggies.
After lunch I headed back towards Sydney.  I tried to stop at Wentworth Falls but there were so many people it was impossible to get a park anywhere let alone walk there.  The views while drive around the carpark circuit were amazing and I am really disappointed I couldn't stop here.  Another time I hope.
And sorry to say but that's the end of my adventure.  I did manage to see lots of things that I was unable to photograph just due to the road not being suitable to stop so I definitely recommend this trip.  You don't need to go all the way to Lithgow if you plan to take the Bells Line of Road you can skip across to Katoomba and bypass the last 30km or so of driving to Lithgow and then the 20-30km back to Katoomba.
Plan ahead, take lots of water if it's a hot day, the temperature can jump pretty quick in the mountains.  There's lots of places to stop for food and petrol along the way so give yourself plenty of time if you like to stop and explore all the little stops along the road.
As I mentioned earlier I have many posts about the Blue Mountains, here are some of the popular ones that cover other areas skipped on this road trip.
Comments
comments left so far. Please leave a comment below. Did I mention that I love your feedback?