The Marina Bay Sands is probably the most iconic building in Singapore and definitely a must stay once in a lifetime kind of place.  The moment you first experience the three towers and surrounding buildings you will be in awe of their beauty.
During our stay in September 2015 there was a lot of smokey haze over Singapore due to bushfires in nearby Indonesia so you might see this in some of the photos.
The experience starts with you waiting in a check in queue.  In our case we were whisked away to the VIP check in area which was even more fancy.  We quickly checked in and headed to level 42 to our room.  The lobby of the hotel spans throughout all three towers and it's amazing how much open space there is.
I haven't included many photos of the room in this post as each type of room is different and I don't want to spoil the experience.  If you really want to see what they're like do a quick Youtube search and you won't be disappointed.  Everything about our suite screamed modern and stylish.  The bathroom was bigger than most other hotel rooms we've stayed in before.
Once you're sufficiently settled in to your room it's time to leave.  The Marina Bay Sands has sooooo many things to explore and do.  There is the art museum, casino, shopping center and much much more without ever stepping foot outside.  If that's not your thing you can head to level 57 to the Sky Park and infinity pools but more on this later.
At every turn there is something new to see and I'd suggest a few days in the Marina Bay Sands alone to explore and experience even some of what it has to offer.
The Sky Park on level 57 is an adventure unto itself.  There is of course the infinity pools, but you'll also find bars and restaurants and plenty of viewing areas.  From up here you'll get a great view of the Singapore CBD, Gardens by the Bay, Marina Bay and the Johor Strait.  The views are pretty well 360 degrees of the entire city state.
The main highlight for most people is the infinity pools which seem to end at the buildings edge.  You can lean against the side and look out across Marina Bay and the CBD.  They have separate pools for kids and adults only pools for those that want some peace and quiet..  The views only get better after dark with light shows throughout the evening.
After relaxing in the pool, head back to the suite and order some room service.  While expensive it's also extreme, you certainly won't be left hungry afterwards.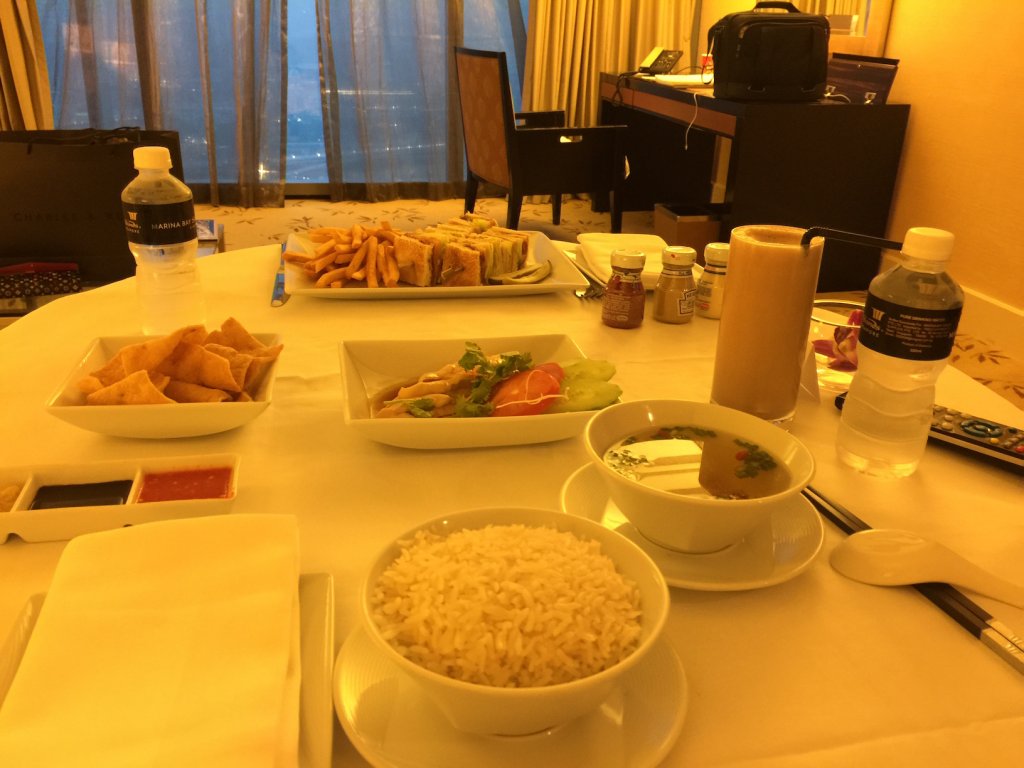 And you can also sit by the window and look out at the fantastic views.  Sadly they weren't that great due to the smokey haze.
I would highly recommend at least one visit to the Marina Bay Sands, more if you're lucky enough to be able to afford it.
My Rating: 11/10 (no, that's not a typo, this place is amazing)
For more information about the Marina Bay Sands and the hundreds of amazing things you can do there head over to www.marinabaysands.com
Location
Comments
comments left so far. Please leave a comment below. Did I mention that I love your feedback?