For the past few weeks I have been trying to decide if I should travel from Sydney to Perth to see the Antonov 225.  After realising this is a once in a lifetime opportunity that just can't be missed I booked my flights and waited for the days to count down.
Just to note, there's photos and videos below so if you're just busting to see the Antonov 225 scroll down.
I arrived in Perth on Saturday the 14th at 2pm on a Virgin A330 and hired a car.  After doing some tourist things around Perth and settling into the hotel I could barely sleep.
When the morning finally arrived I met up with Alex (my new Perth Plane friend) and we headed to the Perth Airport Observation Area off Dunreath Avenue.  There was a limit set by the airport for 400 people to attend this area before they closed the road off and at 5am we'd skimmed in with only about 100 people arriving before us.  Before too long the area was packed and the road was closed however people kept coming in, opting to walk Dunreath Road to get to the spot.
We could see across the airport to Airport Drive where Perth Airport had setup an official viewing area.  The roads were gridlocked and the people were amassing.  They estimated between 11,000 and 15,000 people.  Our view was superior so was lucky we got in early.
We arrived before the sun and stood waiting and watching planes coming and going.  Here's some photos.
After waiting for 7 hours, enduring the cold and some rain, at 1151 local time (AWST) (UTC+8) the Antonov 225 came into view on the horizon.  Everyone was in awe of its size before it even got close enough to make out its features.
On landing there was some smoke from the tyres hitting the ground and the crowd was wild with excitement.  The plane is a monster compared to anything you've seen before and it showed in the crowds reaction.
Some stats on the plane:
Wingspan 88.4m (290ft)
Length 84m (275ft)
Height 18.1m (59ft 5in)
Max Takeoff Weight 640,000kg
For interest sakes here is a photo from the media of the Antonov parked near some other planes.  These looks like Boeing 717's and Foker 100 and not sure what the other plane is.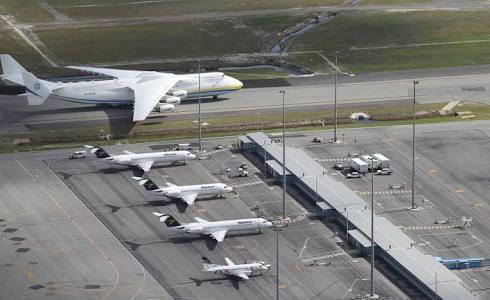 Video of Antonov 225
Antonov 225 Landing at Perth Airport on Runway 21 at 1151 AWST
Be sure to set the quality up to 1080p for best viewing.
This is the first time the Antonov 225 has landed in Australia.
It is making delivery of a 109 tonne generator for a mining company.
This is a raw video of the plane landing and taxiing.  There were approximately 500 people at the Perth Airport Observation Platform on Dunreath Drive and a further 10,000+ on the otherside of the airport.
At 2:10 you will see the first officer wave the Ukraine flag out the window to cheers from the crowd.
Photos of Antonov 225
I took heaps of photos while I was recording video so they're not the highest resolution but I took a lot one after the other so there's bound to be some OK ones in there.
Perth Tourista
If you're more interested in what else I did in Perth, check out the post here.
Comments
comments left so far. Please leave a comment below. Did I mention that I love your feedback?